This is a carousel. Use Next and Previous buttons to navigate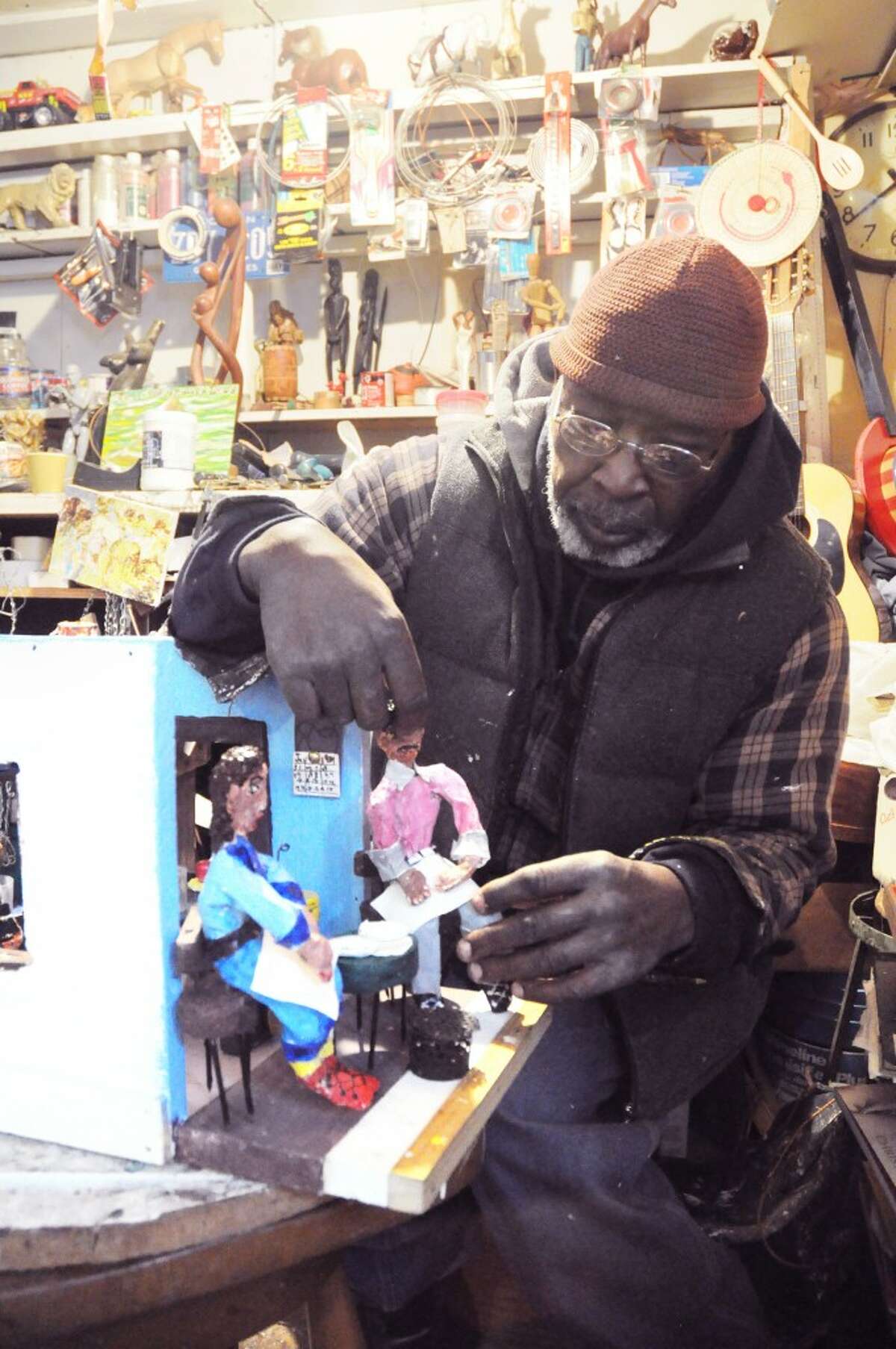 Idlewild artist reflects on cultural work

IDLEWILD — An artist works here. On most days, George Thomas can be found out back in a two-room shed behind his house. The shed's door opens to a brown hue bouncing off the structure's frame. Tools, paint, materials, instruments, focused lamps and unfinished works crowd the entry way. The second room, however, breathes light from nearby windows. It provides soft illumination on the colorful paintings and sculptures displayed that Thomas has created over time. At 72 years old, Thomas, of Idlewild, still spends most of his time in his studio, Outback Studio. The studio's name is derived from his wife's answer whenever someone asks where Thomas is. "Out back," she says. Thomas is an artist who mainly creates paintings and sculptures. His specialty is dioramas, or "box sculptures" as he refers to them. From his time as a child in Atlanta until now, Thomas has always been an artist. For most of that time, however, he did not classify his artwork. It wasn't until he exhibited his work and attended Kendall College of Art and Design that he discovered his category. "I didn't understand the term," he said. "I went to school a little bit, but I am what they call self-taught. They called it 'folk art.'" Thomas is one of eight children. After being born in Atlanta, he moved to Detroit. His mother brought him to Idlewild in the 1950s and he has been there, off and on, since. Most of his work depicts black culture and life. It's also heavily influenced from his childhood in the South. "I'm from the South and I remember the houses, the old houses down where I grew up at," he said. "The way the houses were made, they were almost off the ground. As a kid you could crawl under the house. That always inspired me. Like seeing my grandmother in the backyard washing clothes in the old wash pit." Thomas' mediums include wire, paper mache, paint and rags, among others. Basically, "anything that I think could make a piece of artwork," he said. Although most of his box sculptures portray black figures in social settings, the subject matter isn't race specific he said. "I do black images, but actually it could indicate any culture," Thomas said. "This could indicate just about any culture; black, white or what not." Thomas has hosted workshops in the surrounding area. His pieces have been featured in East Lansing, Muskegon and Harbert. With age, Thomas' passion for art hasn't died. He might move on to other hobbies, but always comes back to his artwork, he said. Age has made it more difficult for him to exhibit his larger box sculptures, but his son helps him transport his work to be shown. He hopes to continue displaying in larger venues in the near future. Although, when Thomas is sitting in his studio, staring into the distance with his artwork surrounding him, he also hopes he inspires. "I would hope when a person looks at my artwork, they can get inspired to make things," he said. "That they can get an idea or might indicated something for themselves." For more information about Thomas and his work, call (231) 745-4767.