This is a carousel. Use Next and Previous buttons to navigate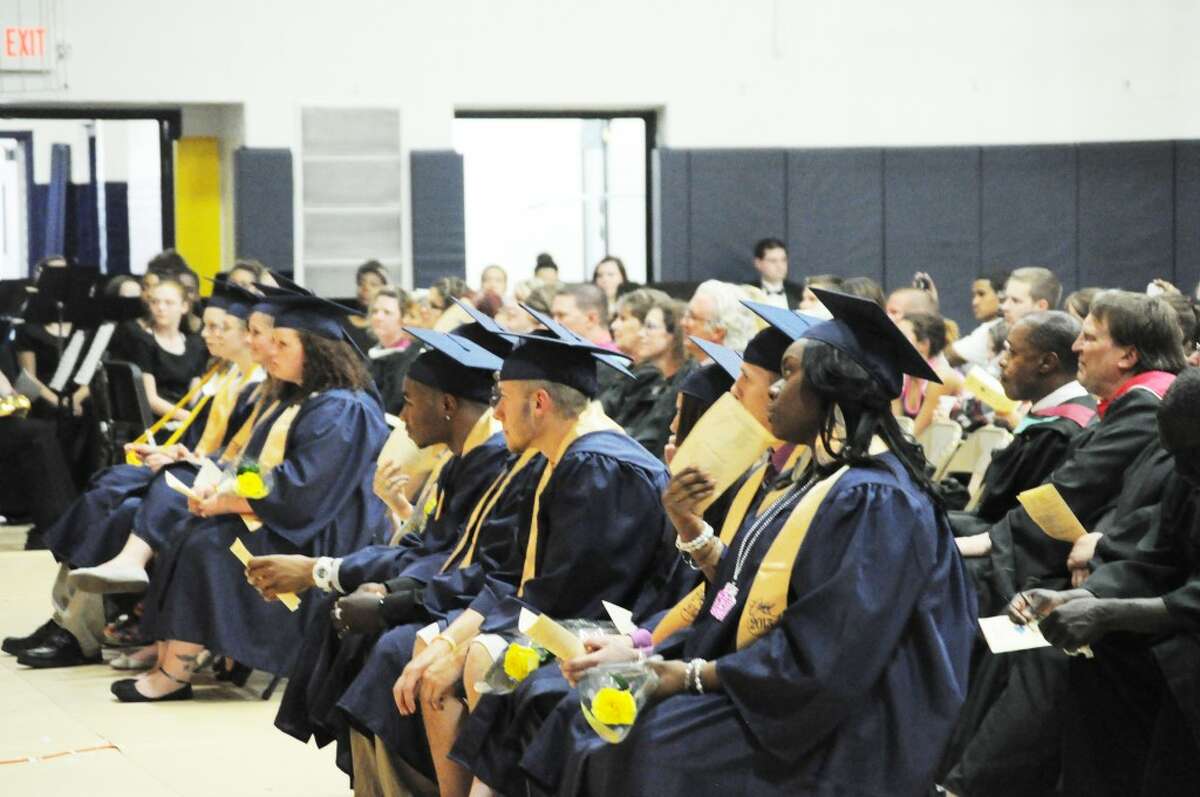 Community celebrates BCS Class of 2013 graduates

BALDWIN — It was a moment that was years in the making which many teachers, school officials, family members and members of the community had been waiting for. But most of all, it was the moment which the Baldwin Community Schools graduating Class of 2013 had been waiting for throughout much of their young adult lives. On Friday, the community gathered in the Baldwin High School gym to witness and celebrate the graduation of 14 BCS seniors. Although Friday's weather made the gym's temperature stifling, it could not stifle the room's sense of pride and accomplishment. After several opening songs were played by the Baldwin High School Band, the Class of 2013's salutatorian, Andon Ware, took the stage to address his fellow graduates. During his address, Ware thanked the school, teachers, coaches and community for making the graduates mentally and physically prepared for what their futures hold. Ware also directly addressed his classmates' solidarity. "To the Class of 2013, this moment is something you have been working toward for a long time," Ware said. "All the sacrifices, all the tears, all the joys for this moment. ... I look out at this class, we are strong, resilient and prepared for anything and everything." Directly following Ware's address, the Class of 2013's valedictorian, Alexandria Hibma-Chalmers, had her chance to speak to the crowd. Hibma-Chalmers also thanked friends, family and BCS teachers for helping the graduates reach that moment. She specifically thanked Ayana Richardson, college access center director and promise zone coordinator, for helping her become ready for college. Like Ware, she also hard parting words for the graduates sitting in front of her. "To my fellow classmates, I wish you the best of luck in your future," Hibma-Chalmers said. "I hope that your dreams come true and the visions that you have come to reality. I will miss all of you." Following a song performed by the Baldwin High School Choir, Troycie Nichols, Baldwin High School interim principal, introduced the night's commencement speaker, Bruce Garlock. Garlock, a former math teacher, joined Baldwin Community Schools in 1971 before he retired in October of last year. As Nichols introduced him, she remarked, "once a panther, always a panther." Throughout his address, Garlock talked about the importance of community while he imparted wisdom to the Class of 2013. The speech revolved heavily around his history in Baldwin, but more importantly, on the people he met along the way in the community. "Over the years I've occasionally wondered why is this district called the Baldwin Community Schools when nearly all of the others around us are called public schools," Garlock said. "I don't know the answer to that question, but I do know that I am glad we are called Baldwin Community Schools. We are a community not just of a place, but of time." Garlock reminded the students that although graduating is a milestone in their lives, it's the rest of their life that matters the most. Keeping with the theme of community, Garlock offered advice to the graduates while telling stories of the people who have helped him in Baldwin along the way. He advised the students to think through life decisions, find great fulfillment, have balance in life, hold themselves to high standards, practice honesty, take leaps of faith, be welcoming to others, not race for money, have a vision, exceed their expectations and never take themselves too seriously. In closing, Garlock reminded the students that as a former math teacher, he would have a lesson for them. He asked them to remember linear functions and exponential functions in algebra. "When a person works alone to accomplish something, they might be rewarded, but only in proportion to their own talents and efforts. And those results are linear," Garlock said. "But when people come together, they work toward a common goal — as all those people I mentioned did with me — the results are exponential. "So please, when you go forward in life seek out a community to become part of. Become part of something bigger than yourself and you will be rewarded exponentially as I have. It will enrich your life." The commencement continued with a slide show of the Class of 2013, and graduate Willie Jones singing the class song, "It's So Hard to Say Goodbye to Yesterday." As the 14 graduates crossed the stage and received their diplomas, the students were fulfilling something Hibma-Chalmers said in closing during her address. "If there is something we all have learned with our years here at Baldwin Community Schools, it's that we must always be ready to learn, ready to change and, most of all, ready to embrace our future," Hibma-Chalmers said.