This is a carousel. Use Next and Previous buttons to navigate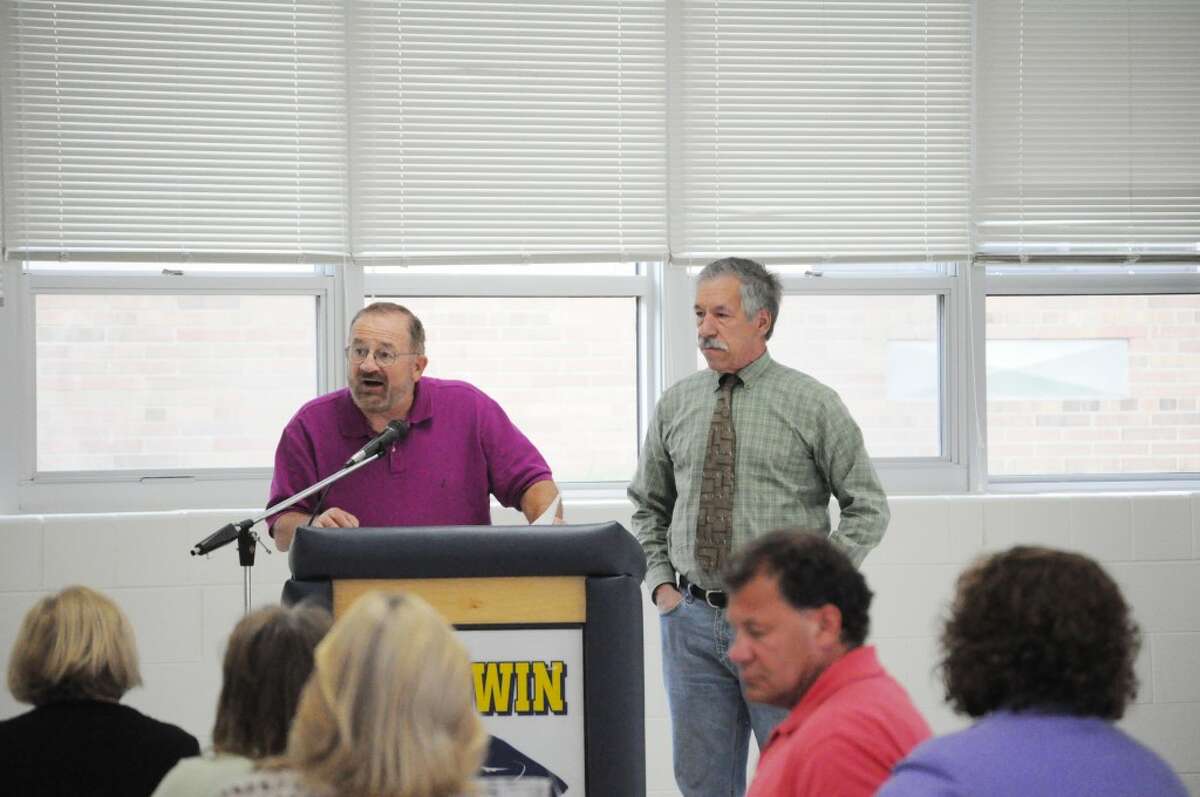 Twenty-seven organizations awarded $72,000 total

BALDWIN — While the economy still is improving, 27 organizations that service Lake County residents received a boost in their funding Tuesday night after being awarded a grant from the Lake County Community Foundation. The foundation held its annual grant program Tuesday night in the Baldwin High School cafeteria. During the program, representatives of each organization came forward to accept their grant. This year, the foundation awarded $72,190. "A lot of the organizations don't have funding other than through personal donations from citizens," said Bill Gillard, LCCF president. "With the economy still struggling to come back … to do these things for the community, to help people grow, to learn and just to improve the community overall, the funds are needed. Unfortunately, all those things cost money." Each year, the LCCF accepts grant applications to support community arts and culture, education, environmental and health and human service projects. The LCCF received 52 applications this year. The foundation has a base fund balance of $4.1 million. It uses the interest it collects from that amount to award the grants. The foundation has a goal to have its base fund reach a balance of $5 million by 2015. "Prior to this year, we were only giving out $2,000 maximum grants," Gillard said. "This year we jumped that to $5,000 because we had an increase in growth." Once the applications are collected, members of the LCCF Board of Trustees go through each application. After that, a grant committee goes through each application to decided which will be awarded. Some applications are eliminated because they aren't filled out correctly, while others are eliminated because they don't qualify as a service that will benefit the community as a whole. "In some instances, as well, it might have been a similar project that we had funded last year," said Sandy Clarke, LCCF Board of Trustees member. "So we had to look at the whole picture to say, 'What was viable for the community; for everyone?'" This year, the Shrine of the Pines was awarded a $3,000 grant to make its caretakers bathroom handicap accessible. Harold Carr accepted the grant. "I would like to thank you and thank the board very much for the continued support of us, the Shrine of the Pines," Carr said. "We have a lot of guests from all over the world stop in … but if we didn't have your support, we would probably have less." Of the grants awarded, 11 were awarded for arts and culture, six were awarded for education, two were awarded for environmental projects and eight were awarded for health and human services projects. The Mecosta Conservation District was awarded a $2,000 environmental grant for its three county 2013 household hazardous waste collection. Charmaine Lucas accepted the grant. "2013 is our 11th year of our collection and we greatly appreciate the support from the foundation," Lucas said. "We started this collection in 2003, and it is a three county collection: Mecosta, Osceola and Lake counties. In the last 10 years, the total pounds that we have collected in waste is 268,372 pounds for the three counties. The Lake County portion of that is 49,171 pounds." The LCCF also held a free grant writing class for the first time this year. The foundation plans to hold the class again next year to help more organizations have a chance at being awarded a grant, Gillard said.