This is a carousel. Use Next and Previous buttons to navigate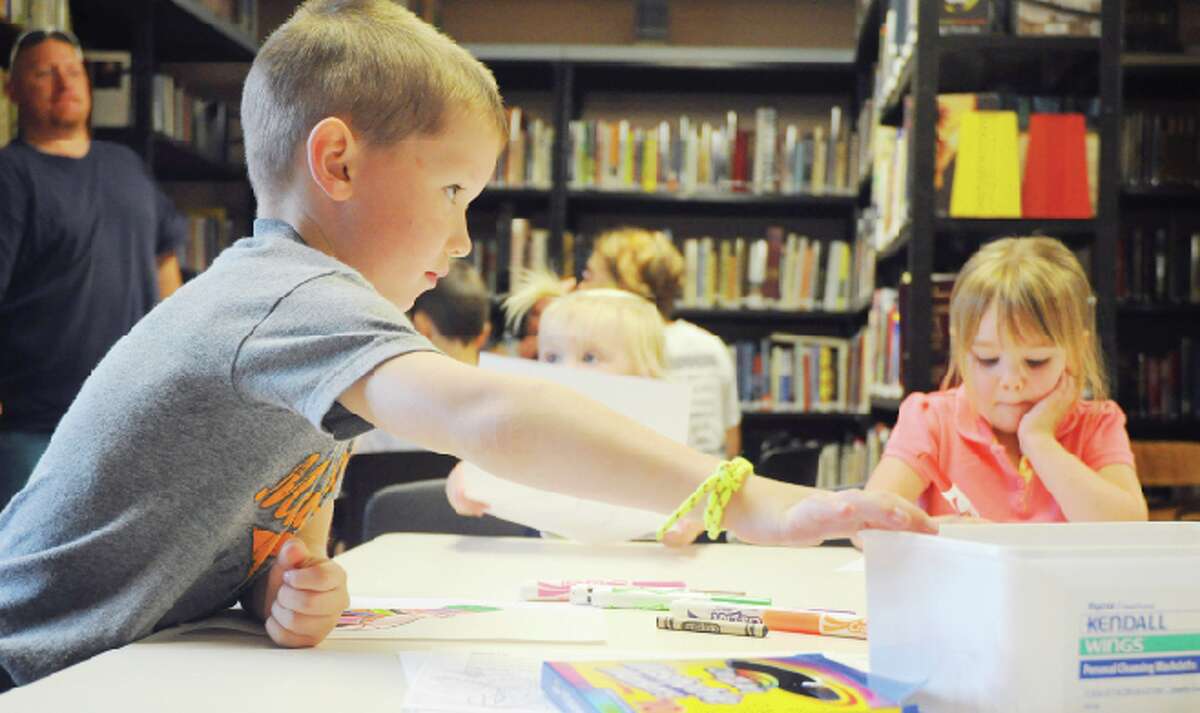 Lake County libraries kick off summer reading programs

CHASE TWP. — More than 20 children, parents, grandparents and volunteers met at the Chase Township Public Library on Wednesday to take part in one of several activities held at the library as part of its summer reading program. This year's statewide summer reading program theme is "Dig into Reading." Keeping with the theme, children colored pictures of worms, learned about unique plants, had a worm race and made mud pudding. Roxanne Ware, library director, said Chase's programs are known for their crafts and activities and can draw up to 60 participants. The program is open to children of all ages and everyone is welcome, Ware said. The program is held from 10 a.m. to noon on Wednesdays until Aug. 8. The remainder of the library's programming includes: Wednesday — Dig into the past; accompanied with a party. July 24 — Dig up dinosaurs; accompanied with dinosaur pizza. July 30 — Under the earth; guests are invited to paint in a cave. Aug. 7 — Dirt movers; accompanied with a building project. Aug. 8 — Closing party. For more information about Chase's summer reading program, contact the library at (231) 832-9511. Although Chase's program is already under way, it is not the only library program in Lake County that offers summertime fun for participants and encourages children to continue reading throughout the summer. The Luther Area Public Library will hold its summer reading program from 2 to 3:30 p.m. on Thursdays, starting on Thursday and continuing to Aug. 22. The library also plans to follow the theme of "Dig into Reading." The library's program will feature snacks, prizes, guest speakers and live animals. Children ages 5 to 17 can sign up for the program at the library. Children under 5 years old must be accompanied by an adult. Also, children can read each week to earn "reading bucks" which can be spent at the "library store." The library's activities include: Thursday — Ahoy mateys! Pirate fun. July 25 — Underground Railroad. Learn about the Underground Railroad and make an Underground Railroad quilt. Aug. 1 — Underground animals. Live digging animals will be brought by John Ball Zoo. Aug. 8 — Dinosaurs and reptiles. Live animals will be brought by Dynamic West School Assemblies to teach about dinosaurs and reptiles. Aug. 15 — Big dig day. Mike Johnson will teach about heavy construction equipment. Aug. 22 — End of program party and time capsule. For more information, contact the library at (231) 797-8006. The Pathfinder Community Library will hold its summer story hour from 1 to 2:30 p.m. on Wednesdays until July 31. The story hour includes a book, movie, craft, story time and reading time. It is open to children ages 3 to 8, but an adult must be present in the library during story hour. On July 24, the story hour will features an ice cream party from Dairy Queen. The library also is holding a summer reading contest until July 31. Certificates for a free ice cream cone from Dairy Queen will be awarded each week to children from pre-kindergarten to fourth grade who read four books in one week, and children from fifth to 12th grade who read six books in one week. At the end of the month, grand prizes will be awarded to the children who read the most books. For the grand prizes, children are split into six different age groups. Contest entry forms are available at the library and must be turned in by July 31. For more information, contact the library at (231) 745-4010.