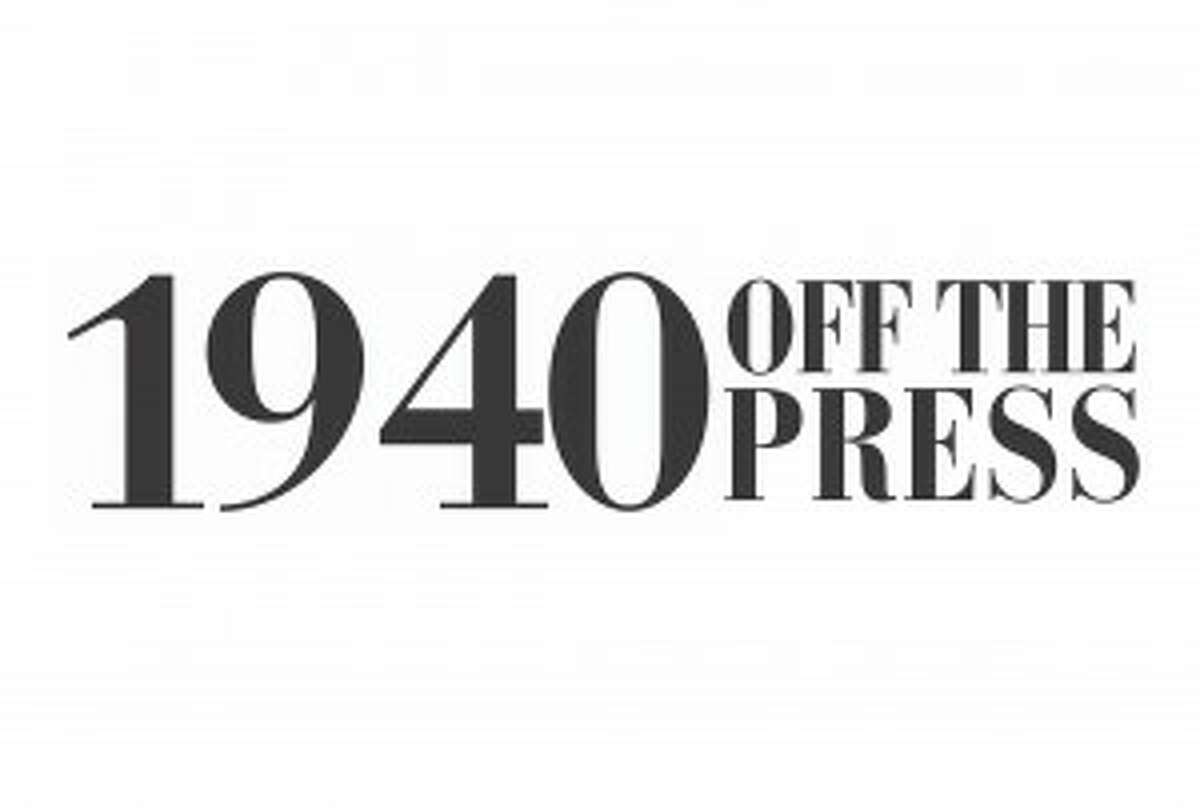 From the Lake County Star September 27, 1940 Edition
Owing to the absence of Court Stenographer Leta Higginson, circuit court lasted but one day this week. Miss Higginson took her mother to Milwaukee for medical treatment and Judge Max E. Neal, after hearing several uncontested matters, set the trial of two major matters over into next week.
Master Craigen Dorsey (of Idlewild) was home from school last week with the mumps.
Special to the Star: Firecontrol towers with their radio equipment were proven valuable as lookouts in the recent war maneuvers in the Detroit area.  The towermen spotted approaching planes and radio messages to ground crew brought the anti aircraft guns into play in plenty time to "annihilate: the attackers.  Of course, the top of one of the conspicuous towers would not be a pleasant place to be under a dive-bombing attack, but it would be a swell place for a machine gun.  Federal army experts were in on the study and gave a strong report in approval.
Miss Anna Sakas, daughter of Mr. and Mrs. Zigment Sukas and Stanley Tauras of Chicago were married at 2 o'clock the afternoon of Sept. 14 in the Church of the Immaculate Conception in Chicago. Father Charnasks officiated. . . The bride was charming in a lace trimmed white satin gown fashioned with a long train, square neck and long sleeves.  Her long lace-edged veil was held in place by a tiara of simulated pearls.  White orchids, roses, gardenias and lilies of the valley were employed in the shower bouquet. . . Mr. & Mrs. Tauras who will live in Chicago arrived Tuesday of last week to visit the bride's parents.
No substitute has been found for wooden railroad ties. Although more than 2,500 patents have been granted for non-wooden railroad ties in the past 50 years, railway traffic in general still moves on a wooden foundation.  Cheapness, strength, elasticity, resistance to shock, ease of replacement and electric insulating properties are the chief qualities of wood ties that account for their continued usage.  It has been estimated that more than a billion wooden ties are now in service on the 414,000 miles of railroads in the United States – about 3,000 ties to the mile.  However, because three-fourths of all wooden ties now used are treated chemically to preserve them, the average annual replacement is only about 75 to 100 ties per mile of track.
The Roach Canning Company closed the bean buying station last week.
Clyde Wilkinson, who recently underwent a major operation in Ludington Hospital, spent Sunday with relatives in town. He is progressing nicely but will not return to his work on the railroad for some time.
Fire Warden L.A. McCrimmon reports the unusual record of only three woods fires in this vicinity (Luther) with only five acres burned over this summer. Mother Nature cooperated with the fire wardens by sending an unprecedented amount of rain during July and August.
Losing control of his car after he had applied the brakes Clifford Borton driving Mrs. Chola Mead's light truck skidded and struck a herd of cattle driven by Kenneth Downs, killing a valuable cow and so injuring two others that they have to be killed soon after the accident. The truck which overturned was badly damaged and was taken to a Reed City garaged for repairs.  Borton was uninjured except for bruises.  The accident occurred about six o'clock Sunday evening.  Troopers Gabe and Whalen of Reed City investigated.
FOR SALE: Grapes 75 c bu. Bring your own containers after the first of October; also two cows, one was fresh Sept. 25, the other is due in January, ages 3 and 5 years – Fred Korsk 6 mi. southeast of Chase.
FOR SALE: 1 feather bed, cross cut saw, 1 one-man saw, cheap.  Thomas Knight, Chase.
FOR SALE: 1928 Chevrolet Pick-up. 1 Philco Radio, 2 wet batteries.  Peggy Dobry.
Girls' Sports: A basket ball girl keeps a set of rules when she is in training.  She must drink plenty of milk and eat plenty of vegetables and fruit, and have plenty of rest.  To keep regular hours she must have 8 to 10 hours of sleep.  Plenty of rest keeps her in good health.  Exercise is also important.  Plenty of out door exercise, not too strenuous at first, but just enough to keep one agile is very beneficial.